About NSDWRC
Northern San Diego County water and wastewater agencies are collaborating on a plan to connect the region – taking inventory of where there is a supply of wastewater and a demand for recycled water for irrigation, industrial, or potable uses. By working together, these agencies are demonstrating a commitment to provide a reliable, drought-proof source of water for the region and reduce discharge of wastewater to the ocean. The time is now for this cost-effective, environmentally responsible approach to water supply planning.
More details on the North San Diego Water Reuse Coalition (NSDWRC or Coalition) members listed below are available on the Coalition Members page.
Regional Recycled Water Project Overview
The Regional Recycled Water (Project) is being completed by the Coalition, a coalition of nine agencies, and will develop regional recycled water infrastructure to increase the capacity and connectivity of the recycled water storage and distribution systems of the Coalition members and maximize reuse of available wastewater supplies. To do this, the project will replace potable water uses with recycled water components, convert facilities to recycled water service, connect discrete recycled water systems to one another, increase recycled water storage capacity, distribute recycled water to effectively meet recycled water demands, and implement advanced water treatment to produce and use potable reuse water within the Project Area.
The objectives of the Project are to:
Optimize reuse of available wastewater resources to reduce ocean discharges and offset demands for potable water supplies that are generally imported into the region;
Proactively plan for facilities that would be needed to meet and offset projected non-potable and potable demands for existing and planned growth within the Coalition members' service areas;
Combine resources and work together to maximize water reuse for the Coalition members at a level beyond what each member could supply and utilize individually; and
Increase water supply availability and reliability, and sustainability beyond existing conditions.
Documents developed for the Project can be viewed by visiting the Documents section of the Project page.
Project Benefits
Adds 72 million gallons of recycled water per day to San Diego County's water supply portfolio at full build-out.
Reduces impact of inevitable water supply shortages on San Diego County's $206 billion economy.
Creates more than 7,000 jobs, according to Council of Economic Advisers estimates.
Serves as green infrastructure by reducing wastewater flows to the Pacific Ocean, off-setting water imports from Colorado River and California State Water Project and avoiding energy demands and greenhouse gas emissions associated with imported water.
Crosses jurisdictional boundaries of ten public agencies and Marine Corps Base Camp Pendleton, demonstrating efficiency in government.
Constructs 90 miles of recycled water pipe, improvements at 9 treatment plants, and 7 potable reuse sites to serve a cumulative demand of over 30,000 acre-feet per year by 2025.
Project Overview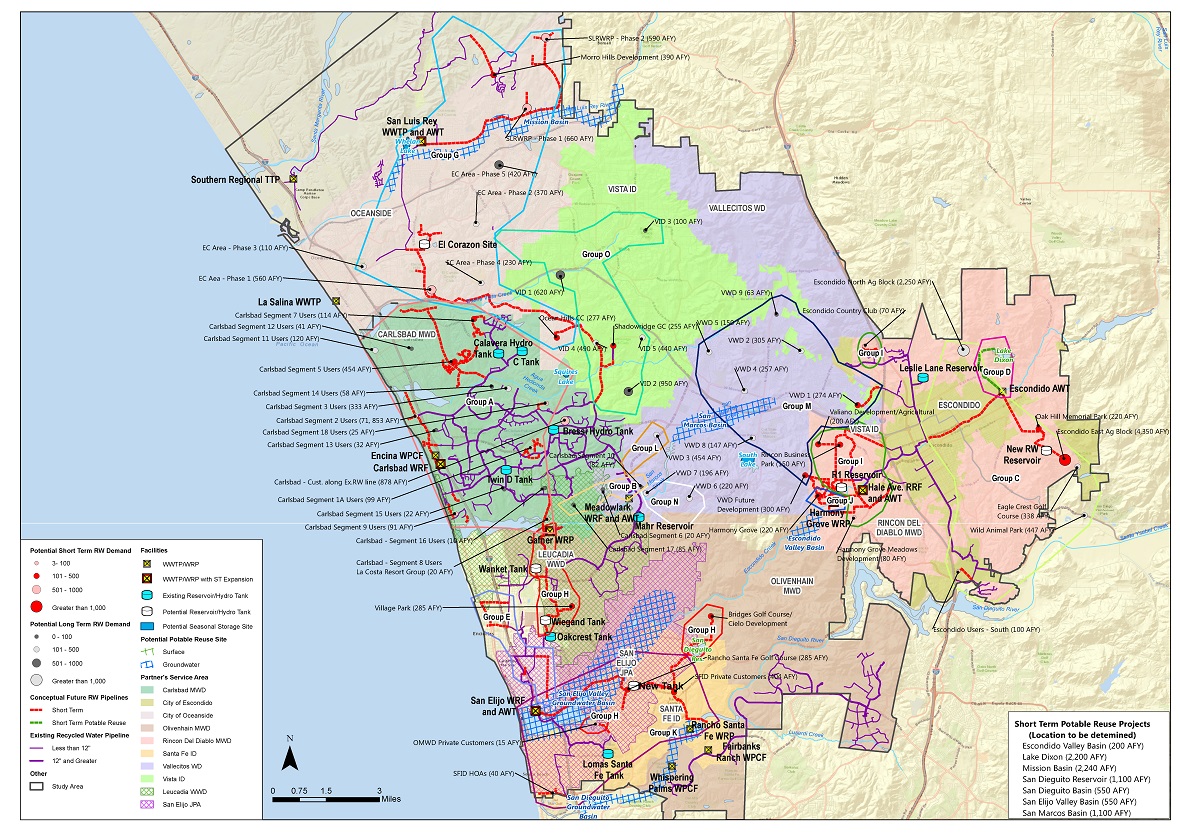 Supporting Regional Goals
The Project supports regional goals, including 7 objectives of the San Diego Integrated Regional Water Management (IRWM) Plan, a regional planning document that encourages integrated water planning in western San Diego County.
San Diego IRWM Objectives
Integrated solutions to water management issues and conflicts
Maximize stakeholder involvement and stewardship
Effectively obtain, manage, and assess water resources data
Develop and maintain a diverse mix of water resources
Construct, operate, and maintain a reliable infrastructure
Effectively reduce sources of pollutants and environmental stressors
Effectively address climate change through adaptation or mitigation in water resource management
The Coalition has successfully leveraged $4.95 million in IRWM grant funding to help fund development of the project, and individual Coalition members have been able to leverage additional funding for their individual components through various State and Federal funding programs.
In addition to funding support, the Project has received support from a wide range of area stakeholders. Visit our Community Support page to learn more about the support the project has received from the community.